keyboard_arrow_leftAll Preset Packs
Florian Roser
Monochrome Diary
Mobile & Desktop (iOS & Android)
No desktop pc required for smartphone installation
8,39 € incl. VAT
Description
Best for:
All you want to have in a nice B/W look
Presets (4): BW01, BW02, BW03, BW04
Monochrome photos can be so exciting - with these 4 presets for every occasion. BW03 has been developed by Florian in the style of an original movie from the 90s, which he found in his dad's analog camera.
Use
SUPREME PRESETS were developed with the aim of being able to use them quickly and easily and to give your own photos a unique look. Each preset has been designed for specific shooting situations where it will work to its full potential.
Because photos differ fundamentally in exposure, color temperature, dynamics, and the subject in general, it may be necessary to adjust the exposure and color temperature of the respective image by using the exposure and color temperature controls after applying a preset. How exactly this works is explained in our video "How to use Presets".
All presets can be installed and used in the Adobe Lightroom Desktop version as well as in the free Mobile Lightroom Photo Editor App (iOS & Android). They work on both regular - JPEG and RAW images.
After purchasing a Preset Pack, you can download it up to two times.
For the installation of the presets in the desktop version of Adobe Lightroom as well as the in the free version App Lightroom Photo Editor, please have a look at the installation video or description after your purchase.
Answers to all other questions can be found in our FAQs
About the Co-Creator
Florian Roser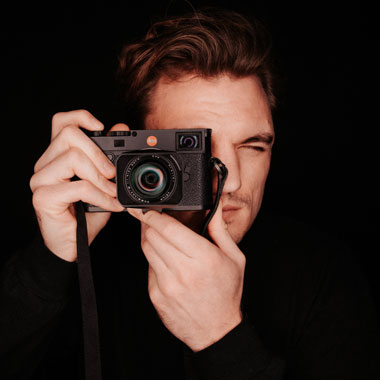 He worked as a professional photographer for Playboy and GQ, all major car manufacturers, as well as fashion and beauty brands.
He also had David Beckham, Gerard Butler and Gwyneth Paltrow in front of his lens.
 Growing up with a father who was an analog photography enthusiast, Florian Roser always had a camera within reach. That has never changed: Flo has lived in Berlin and New York, among other places - he always had his camera with him and so he shoots his famous Instagram stories and uses Lightroom every day more than any other app.
Other Preset Packs from Florian Roser